Ok, I bet you came here just to furiously respond "BUT IT'S MONDAY!!!" and I'm sorry for even bringing up Friday this early in your work week but…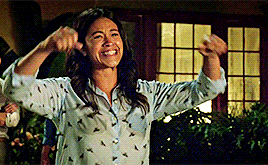 IT'S MY FRIDAY!
See, it all started when Anthony began his trail to become a Happiness Engineer for Automattic (where I work if you're not aware). Anthony and I have both worked from home together before, but in the past we didn't have the flexibility to exactly choose which days we wanted to work. As a Geek Squad Agent (line-level, hourly) I could change my availability but as a Deputy of Covert Operations (manager) Anthony really didn't have as much of a choice. With Automattic we'd both have the flexibility to choose our work schedule as well as an open vacation policy. With this we decided to switch things up should be chosen to become a full-time "Automattician".
Through hard work and dedication during his 4 week trial, on October 30th Anthony joined me at Automattic as a full-time Happiness Engineer. Although, he is a traitor and will be providing support for Jetpack instead of WordPress.com like me. Nonetheless, we solidified our work schedule plans which are:
Carissa will work Thursday through Monday, with a "weekend" on Tuesday and Wednesday

Anthony will work Friday through Tuesday, with a "weekend" on Wednesday and Thursday
The idea is that we'll each have a day off to ourselves with Wednesday to do things together such as clean the house, shopping, some joint appointments, etc. As you may be able to tell by the title of this post I've already implemented this work schedule and I have to say I'm loving it so far!
Last Tuesday my mom was still in town for her visit so we had time to check out the Virginia State Capitol and Belle. Normally that's only something that I'd be able to do on the weekend and these places are way more active on the weekends (read: more people than I can stand). We were literally the only people in our (free) tour group of the capitol, so we had a very personalized experience, it was fantastic.
Then, after my mom went back to her home in South Carolina, I had Wednesday off to clean the house, recuperate, and run errands. I also spent the day catching up on a bunch of TV I was behind on due to my mom's love of baseball and the World Series landing during her visit.
With all that said, I don't expect our new work schedules to affect pretty much anyone reading this considering we live half a country away from most of our friends and family. Well, I suppose this might affect a few of my Automattician friends but you know who you are and you can still message me in Slack even if I'm not working! This is an exciting time with Anthony's new job and our new schedules, so I wanted to share a quick update.